The Silver Duck
An immersive RP venue located next to the beach in beautiful Shirogane - The Silver Duck offers entertainment and fellowship to Eorzea's adventurers.Get ready to indulge in our renowned signature drinks while immersing yourself in the finest music from some of Eorzea's greatest bards. As you step inside you will be greeted by the beautifully redesigned bar and lounge that await you on the ground floor. It's the perfect place to unwind, mingle, and indulge in the finest beverages we have to offer.Our charming VIP area is a haven of comfort with plush sofa seating and the best view in the house to our expanded stage that is eagerly awaiting the arrival of your beloved bard bands from far and wide, ready to serenade you with their melodious talents from across the realms.If you don't have access to Shirogane and need assistance in teleporting to the venue, please contact a staff member for a friend teleport!
Light - Odin

Shirogane, Ward 11, Plot 49.

Next opening: Wednesday, September 27th, 5pm - 7pm Server Time

VIP-reservations: Available
Rheyana YrethThe Boss ... Queen Bee ... Mama Bun. Quick to laugh and slow to anger (except to her slacking employees). She'll charm the pants off you -- but keep them on, no matter how much she rocks that Dirndl's Attire, because this is a classy lounge, OK? Ask her for advice on interior decorating; or marital harmony."Come -- let me help you." - Rheyana
Ceilewen MoonseekerShe's poetry in motion. Meet her gaze and you may drown. Flirty and fun, she'll make you feel special whether waiting on your table, hosting your event or being there when you're lonely. Just be careful, because kitties can scratch too."Hey, cutie. Up for some fun?" - Ceilewen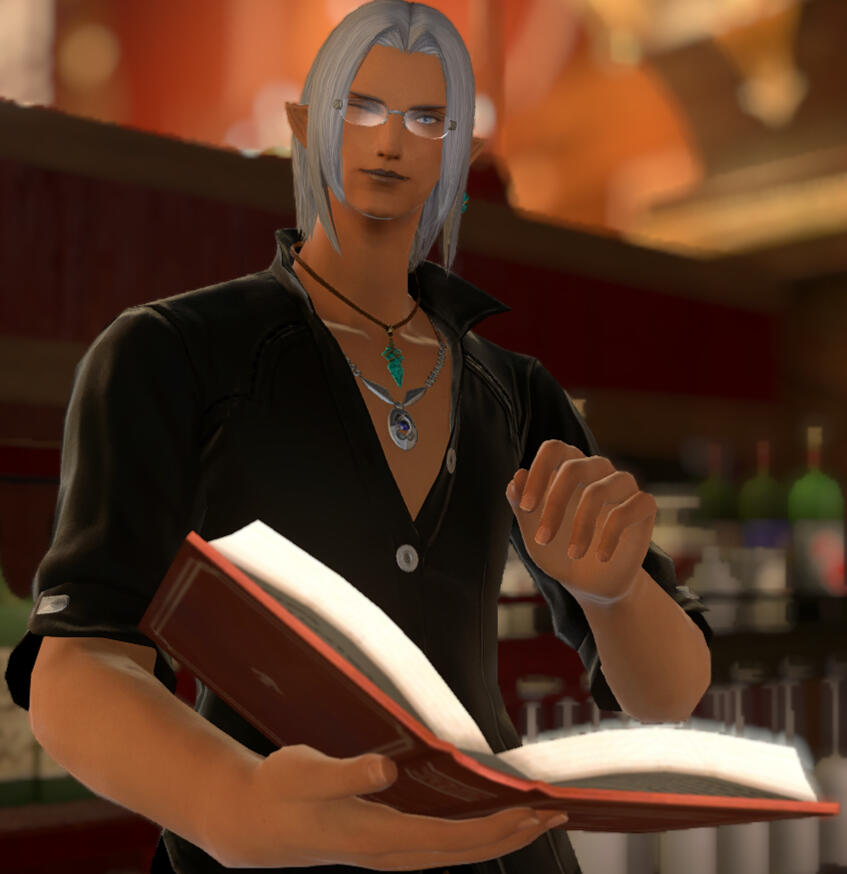 Arariman LarimanArariman is a musician. He even writes his own stuff! Ask him nicely and maybe he'll play for you. When not performing, he devours books, while his Baby Behemoth -- which he's convinced is a pet pig -- devours ... things that would make an aldgoat puke. He'll save some for you if you want. And don't rub his head."Leave me alone, please..." - Arariman
Zokuku ZokuThink sugar ... ice cream ... honey ... agave nectar ... maple syrup. Now put them altogether and mix thoroughly. The result: Zoku. If she's in the kitchen, your meal will rock your socks. If she's waiting your table, you'll melt into your chair. If you're extra nice, she might wear her bonnet for you."Oh, oops... I didn't mean to do that." - Zokuku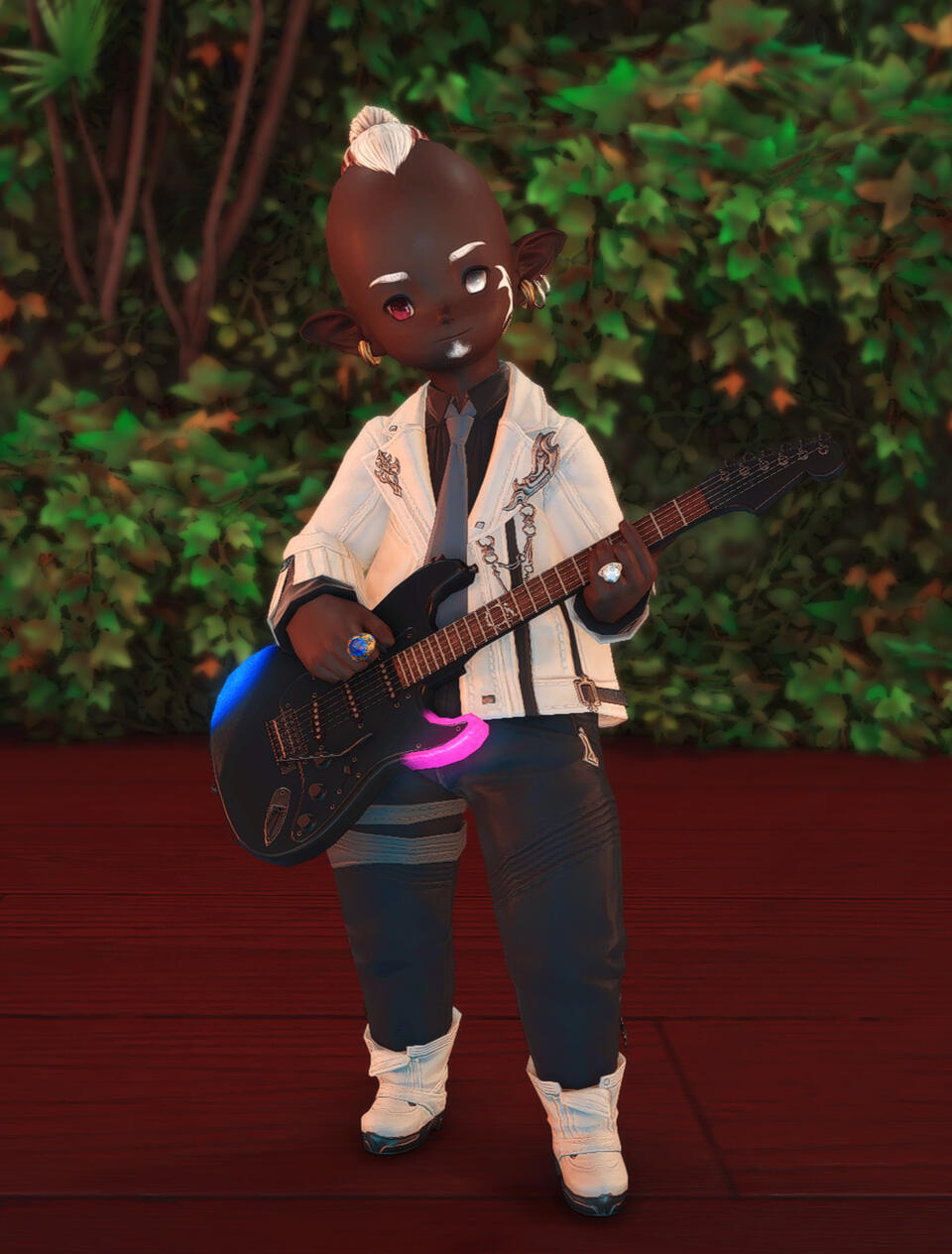 Diana SophisticaNo matter how scary the exterior may look sometimes, Diana has a heart of gold. An adventurer at heart, wondering about the tales others have to tell. She might be flirty, kind and warm, but never mistake that for weakness. If you need to be removed, she will do it with pleasure."Sit back, rest a bit. Don't worry about a thing, Dear." - Diana
Mira MoonshrikeQuestions? Wishes? Lack of company? Mira will be there for you, trying to provide you with the relaxed evening you were hoping to find in our lounge. This mostly blue Moonkeeper will bring back some sunshine into your heart, as long as you don't mind her smell of dyes and colorful patches of fur."Only second degree burns, nothing serious. I had so much fun! So... how was your day?" - Mira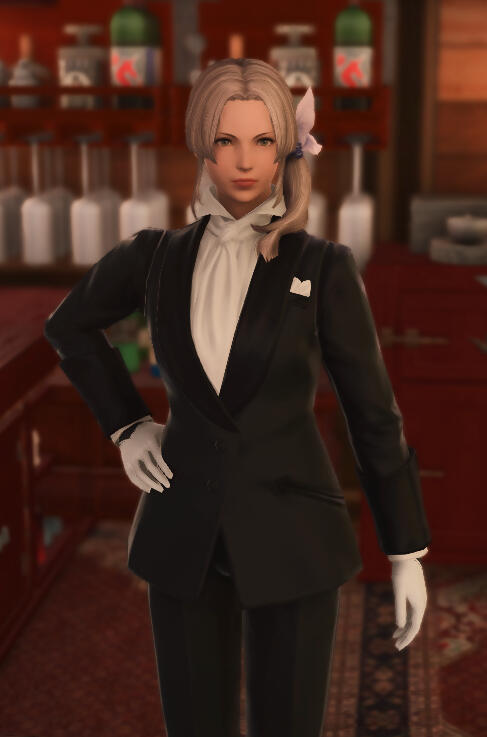 Mirel MouiLike a Peony, Mirel is both sweet and bashful. Our resident Flower Lady, she operates a flower shop outside of working at the Silver Duck!
She always does her best to lessen everyone's workload where it is needed. She is shy, and earning her trust is a slow process, but once you have -- she is a companion that will stand with you through any trial. Caring and dependable, she does her best to make sure her friends are happy and well taken care of."Please, take good care of your plants." - Mirel
Florissaire LyleFlori is a Musketeer. Yes, she looks like a Samurai, walks-talks-and-fights like a Samurai ... but she's a Musketeer. This cannot be stressed enough. If you insist on calling her anything else, she will ... ignore you. Don't say anything bad about the color blue, either. If you're nice, and especially if you buy her a good wine, she may demonstrate her sword-and-chapeau-flourish. But she won't date you because she's got no time for that stuff -- too busy training her sword-and-chapeau-flourish and attending wine-tastings."Careful there." - Florissaire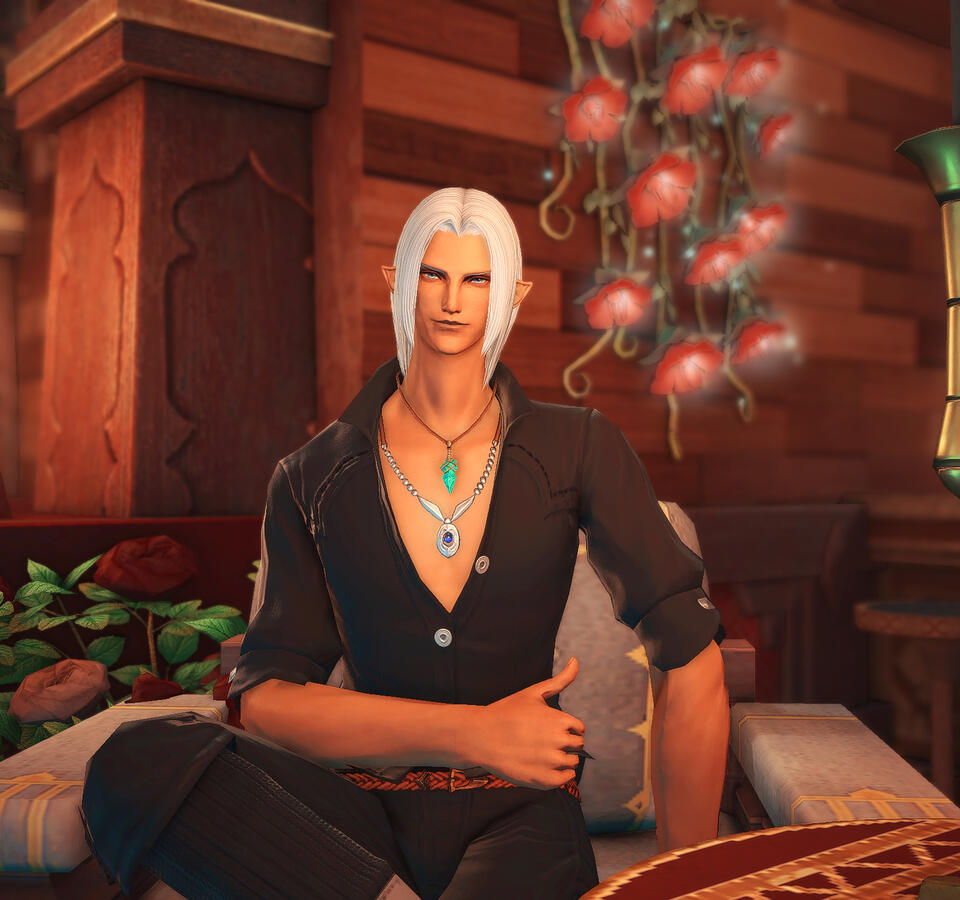 Marcus LiviusHe's the bartender. He makes you drinks. He figures out who is drunk and who is just stupid -- be the former and you can sit at the bar. If you want philosophy, psychiatric help or even a psychic, pull up a stool -- anything he tells you will be just as good as anything those whackos tell you, and you'll get a nice drink with it. Maybe you can't buy happiness, but come to the bar and you can buy a well-made cocktail, which is the same thing."There's nothing a good drink can't fix and no drink is "bad" -- some are just better than others." - Livius
Lithyn DascarmatA dancer of savage grace, a watcher of forest moons, a keeper of wayward cats, a vehement (and unreasonable) loather of goobbues; a fierce lover, a tender lover, a sharp tongue and a sharper wit, a gentle heart with a core of steel, and, if you're lucky, your waitress for the evening.Lith is also proprietor of Dascarmat's Melodious Manuscripts: Gridania's premier purveyors of orchestrion rolls to the rich and famous (no order too large or too small, prices negotiable for bulk orders, enquiries welcome, discretion assured)"Don't upset the cats." - Lithyn
Sev IshtraA no-nonsense kind of guy, to the point and honest -- without using it as an excuse to be an arse. He likes to surround himself with good company, great food, drinks and music.
Sev is not a bad dancer and you might be able to tempt him into a little jig with you -- that is if he's not already occupied dancing with a lady. Go on, he might look scary, but he'll only bite if you ask him nicely."Fancy a muffin?" - Sev
Eisen SchmittHe drinks, therefore he is. You don't believe it? Ask him! You still don't believe it? Ask him again. But if you do, he may find you irritating and bounce you. You don't want Eisen to bounce you. You want him to be a Teddy Bear -- which he usually is. If he gets angry, then quick! Hold up a mirror. He'll admire his biceps and forget why he got angry. And never make jokes about his bard costume. Ever."No." - Eisen
... plus all our lovely freelancers and friends. ♥
---
NPC Staff: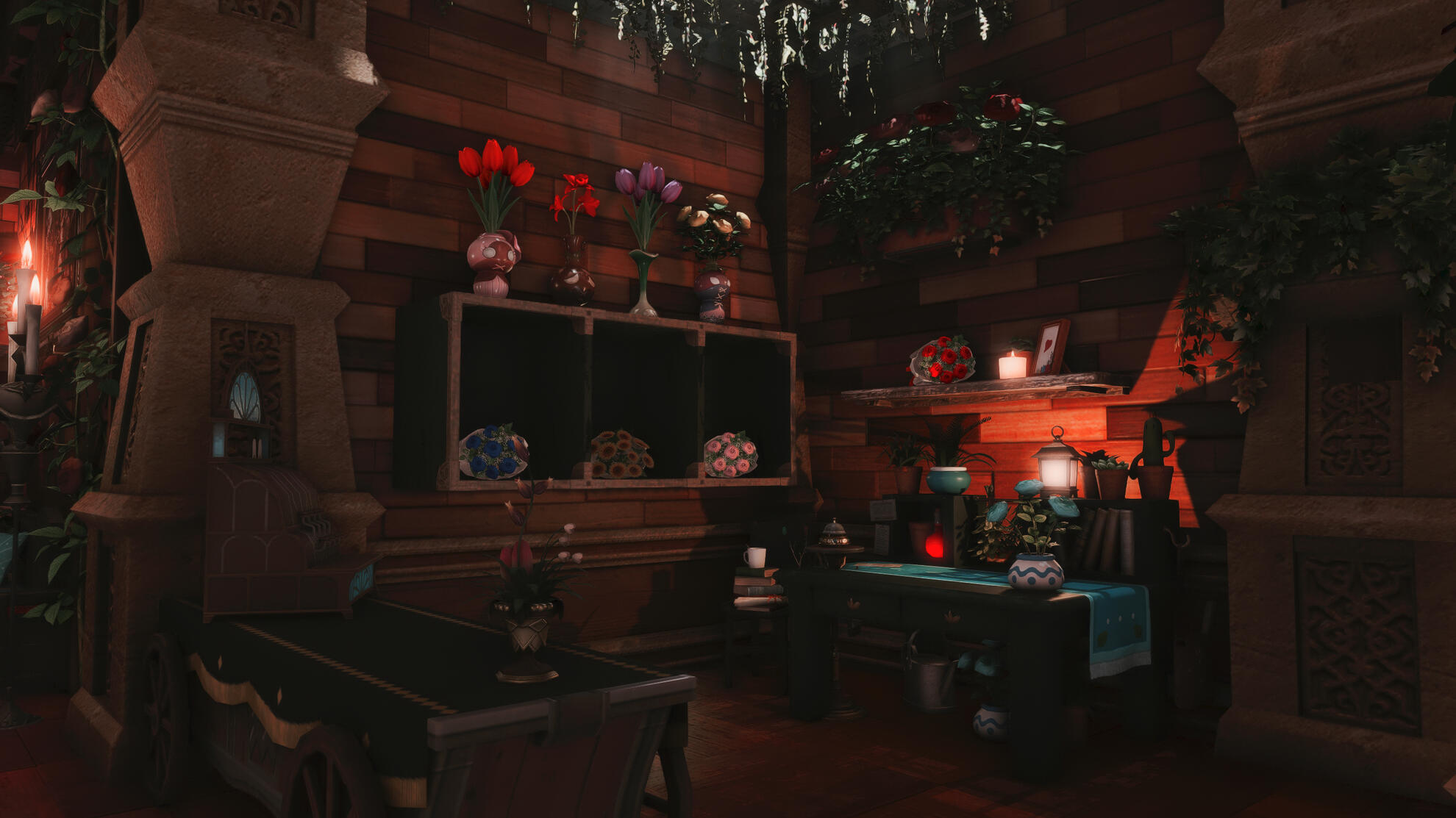 Rose HowellRose is our beloved Bartender-In-Training that takes over when the rest of the staff is done for the night. She will make sure you have the time you need to finish up any drinks or food, and is in charge of locking up the venue after last guest leaves."Where is that bottle...?" - Rose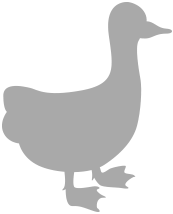 1. This is a SFW venue, so please keep your pants and shirt on at all times.2. No foul language or abusive attitude.3. Please leave your weapons and minions at the door. We don't mind emotes, but do not spam them.4. Do not use /yell or /shout, the staff reserves these for announcements.5. Please keep all OOC chat in private text, alternatively use () if you need to write short messages in public. This is an immersive RP venue - we suggest enabling your RP tag to show that you are "In Character".6. The staff will be "In Character" during opening times, and any interactions should be treated as such.Real life drama is not welcome here.If you are new to roleplay and would like to learn - we will do what we can to help and make the experience as enjoyable as possible!Should you have any questions or concerns please don't hesitate to grab a staff member for a chat!
Disclaimer: While the prices listed on the menu are for RP purposes only, we do offer a selection of paid services. These are for people who wish to enhance their visit to The Silver Duck, or just want to support us with real GIL so that we can keep hosting events and give you all fun roleplay and companionship! ♥All pre-bookings must be done trough our ticket system on Discord.Join Discord
---
Table Bookings - Free
As our venue tends to fill up rapidly on popular evenings, we kindly suggest reserving a table in advance. This not only enhances your experience but also contributes to our ability to prepare delightful surprises tailored to the level of demand and attendance. We look forward to ensuring your visit is exceptional, both for you and for us!
---
Mirels' Flower Service - 10 000 GIL
Whether you're on a romantic date and looking to delight your special companion with a charming surprise, or simply enjoying drinks with a friend and aiming to add a touch of brightness to their day, allow us to introduce you to our delightful service. Meet Mirel, our in-house flower vendor, ready to offer you a selection of beautiful blooms right at your table. Don't hesitate to signal any of our friendly staff members, and we'll ensure you're taken care of!
---
Pieo's Lapwarming Service - 30 minutes, 30 000 GIL
Are you seeking warm companionship to banish the feeling of loneliness from your table? Has your day been challenging, leaving you yearning for a quiet presence to keep you company while you savor your drinks and the soothing melodies in the air? Perhaps you simply crave a comforting hug or a cuddle-buddy to share a lap and brighten your day, even if just for a fleeting moment. Allow us to introduce you to our cherished Pieo, ready to provide all the comfort and solace you need.
---
VIP Balcony - 100 000 GIL
The Silver Duck has a lovely, elevated VIP section in the corner of the venue with a great view to the stage. This area is available for bookings in advance, seats up to 6 people (additional cushions can be placed for more seats) and comes with it's own priority service.
---
The Valentione Package - 40 000 GIL
At The Silver Duck, we offer charming and intimate booths, perfect for creating unforgettable moments with your beloved companion. Elevate your evening by indulging in our exclusive "Valentione" package, thoughtfully designed to set a romantic ambiance. Prior to your arrival, we adorn your booth with enchanting decorations and delightful treats, ensuring a truly magical experience. The image shows an example setup - we have plenty of variation for you. ♥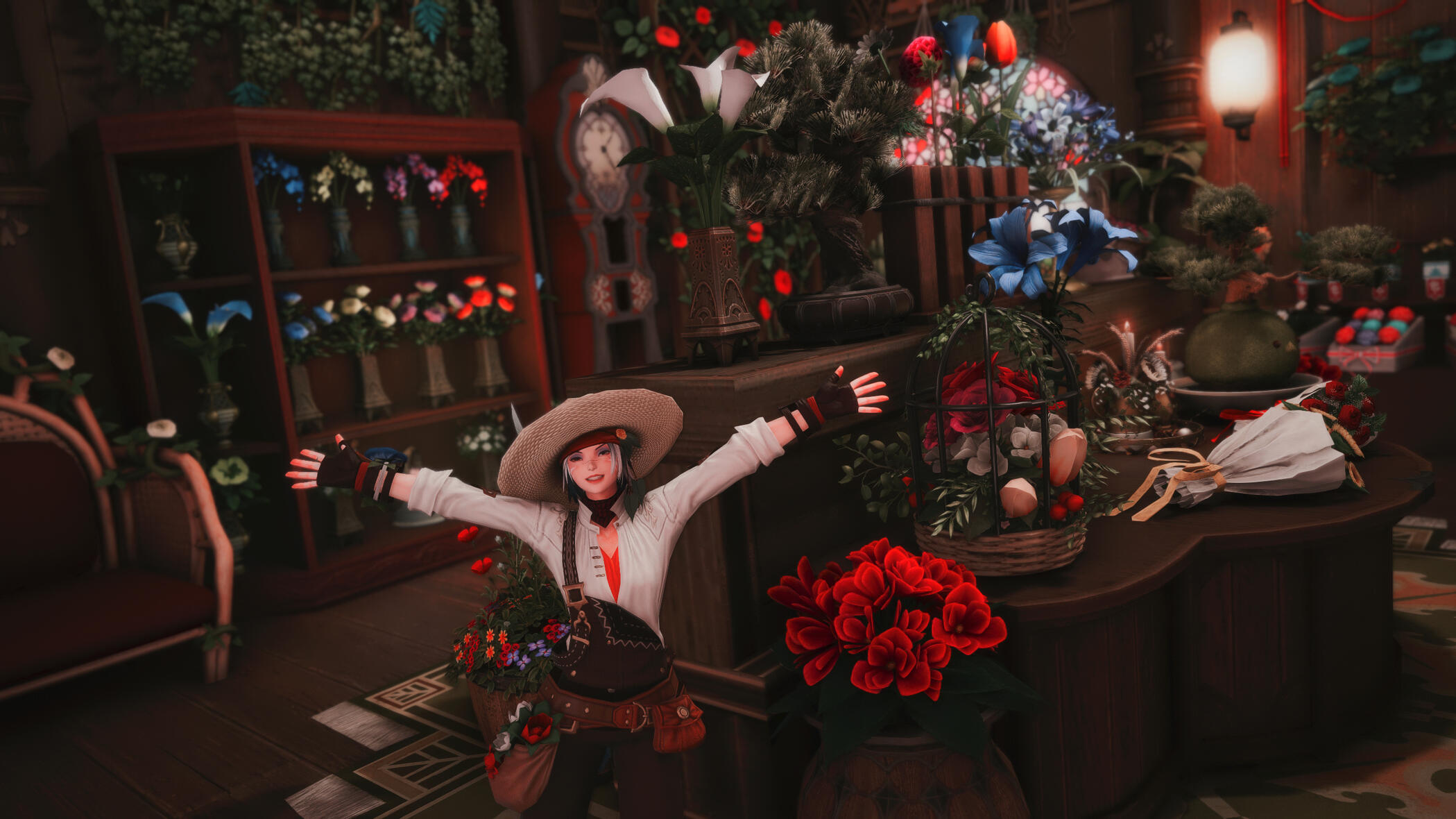 ---
Photo Session - 75 000 GIL
The Silver Duck is graced by the presence of one of Eorzea's most talented photographers, the delightful Hanako Kami. She possesses the remarkable ability to capture your essence and create a cherished memento in the form of a photograph, complete with carefully crafted poses that reflect your true self. For more information, please visit our Discord channel!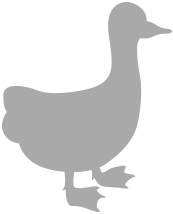 ---
Fashion Report Service - 120 000 GIL
Our cherished Mirel has a diverse range of talents beyond her expertise in tending to flowers and serving beverages. She is also a dedicated fashion enthusiast and skilled crafter. Join us during The Silver Duck's Friday openings to explore her unique offerings! You can acquire a complete set of items, priced at 80 points and inclusive of dyes, perfect for making a lasting impression on the Masked Rose.
---
Personalised Limericks - 10 000 GIL
You've likely encountered him skillfully crafting the most exquisite drinks and providing impeccable service from behind our bar. However, there's more to our esteemed bartender, Marcus, than meets the eye. Did you know that he's also a talented writer? Let Marcus regale you with his literary prowess by composing a personalized limerick about anyone or anything that captures your heart – be it yourself, your partner, your friends, your parents, or even the renowned Scions. Your imagination is the limit!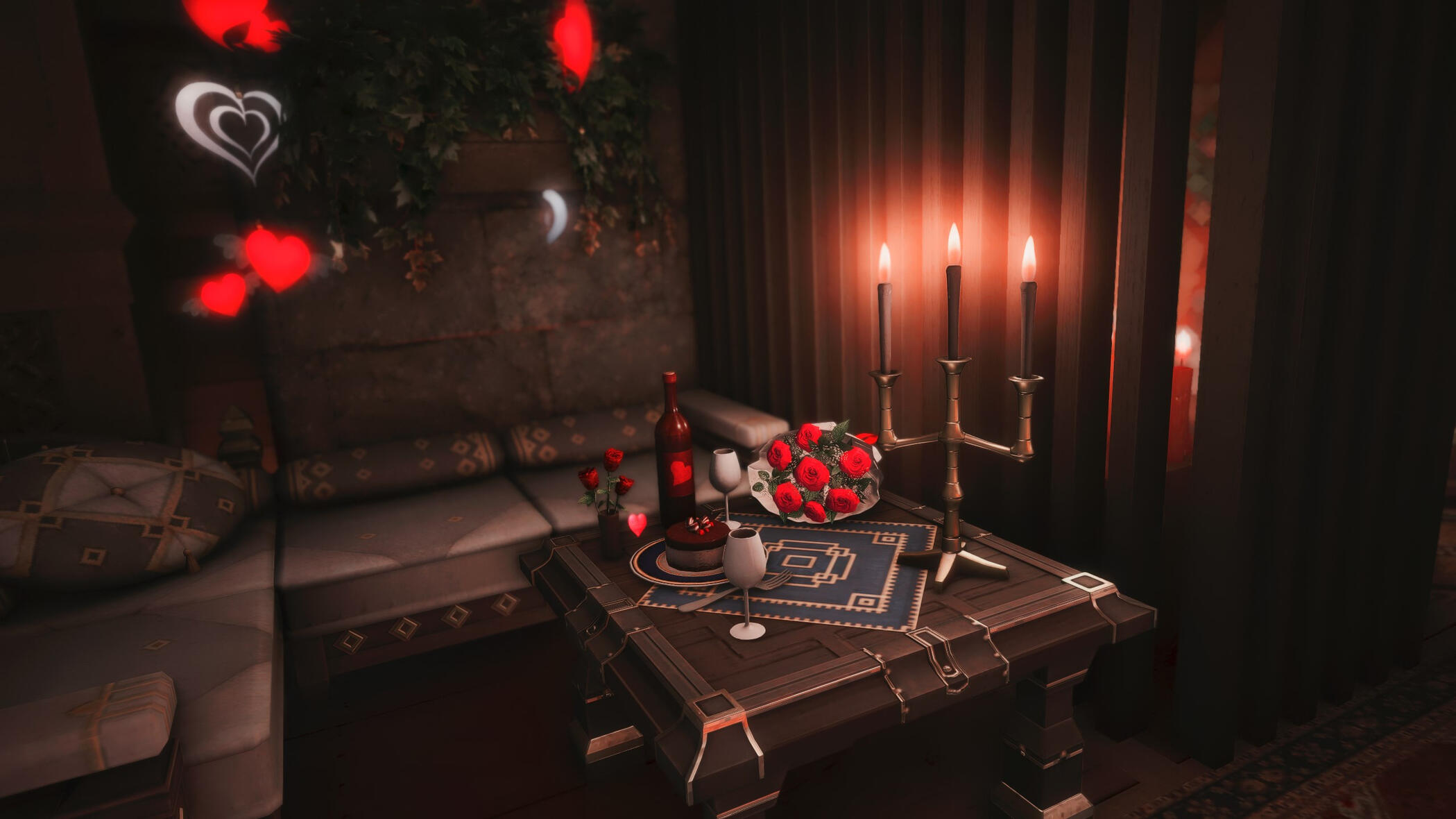 ---
Full Bar Service - 350 000 GIL -- must be booked in advance
Immerse yourself in an extraordinary bar adventure like no other. Our redesigned lounge now boasts not one, but two exceptional bars, each flanking the stage. Enhance your night by reserving an entire bar section, guaranteeing you and your party personalized attention from our expert bartenders. Enjoy exclusive specialty service and access to our secret drink and food creations. Each section accommodates up to 8 guests, promising an unforgettable, one-of-a-kind evening!
---
Venue Rental - 1 000 000 GIL (unstaffed)
Want to host an event at The Silver Duck? We will gladly provide you and your friends exclusive access to our venue along with our cherished NPC staff should they be desired for immersive roleplay purposes.We also offer rental with The Silver Duck staff present -- granted their availability at your desired date and time.> Venue rental with staff: 5 000 000 GIL.
| Order | Item to give out | Amount |
| --- | --- | --- |
| Cold Beverages: | | |
| Any alcoholic drink | Frozen Spirit | 1 |
| Juice of the Day | Pineapple Juice | 1 |
| Hot Beverages: | | |
| Hot Chocolate | Hot Chocolate | 1 |
| Doman Tea | Doman Tea | 1 |
| Gridania Cream Coffee | Triple Cream Coffee | 1 |
| Lounge meals: | | |
| Burrito Platter | Elpis Deipnon | 1 |
| Snacks & desserts: | | |
| Valentione Cake | Rolanberry Cheesecake | 1 |
| Wondrous Parfait | Rolanberry Cheesecake | 1 |
| Cookies | Sesame Cookie + Sideritis Cookie | 1 of each |
Remember to whisper the drink orders to the bartender to avoid spamming the chat and make it easier to notice.
---
Those that are given the roles as staff for the evening will use the "Looking to Meld Materia" tag to make it easier for guests to know who they can interact with.Those that are assigned to be a guest can stick to the RP tag. ♥All roles will be assigned before we open our doors.Any tips you recieve is yours!
---