The Silver Duck
An immersive RP venue located next to the beach in beautiful Shirogane - The Silver Duck offers entertainment and fellowship to Eorzea's adventurers.With live bard music, excellent drinks and a warm, intimate atmosphere we promise you a night to remember!If you don't have access to Shirogane and need assistance in teleporting to the venue, please contact a staff member for a friend request.
Light - Odin

Shirogane, Ward 11, Plot 49.

Next opening: SPECIAL EVENT COMING UP -> June 16th, 18:00 - 21:00 Server Time

VIP-reservations: None
Highlights:- Live bard music and captivating performances.- Photostudio for all your GPose needs!- Beautiful VIP-area available for pre-bookings - see "Services".- A large stage to host Eorzea's finest bands during special events.- A menu that is constantly updated to keep your tastebuds fresh.- Enthusiastic staff that loves to engage with the guests; feel free to use the floor and ask your server for a dance if the music makes you want to do a little jig!... and more!The lounge will continue to expand and evolve as new ideas and features are added - but our primary goal is to make everyone feel welcome, have a fun time roleplaying and leave our venue with happiness in their heart.- The Silver Duck Team ♥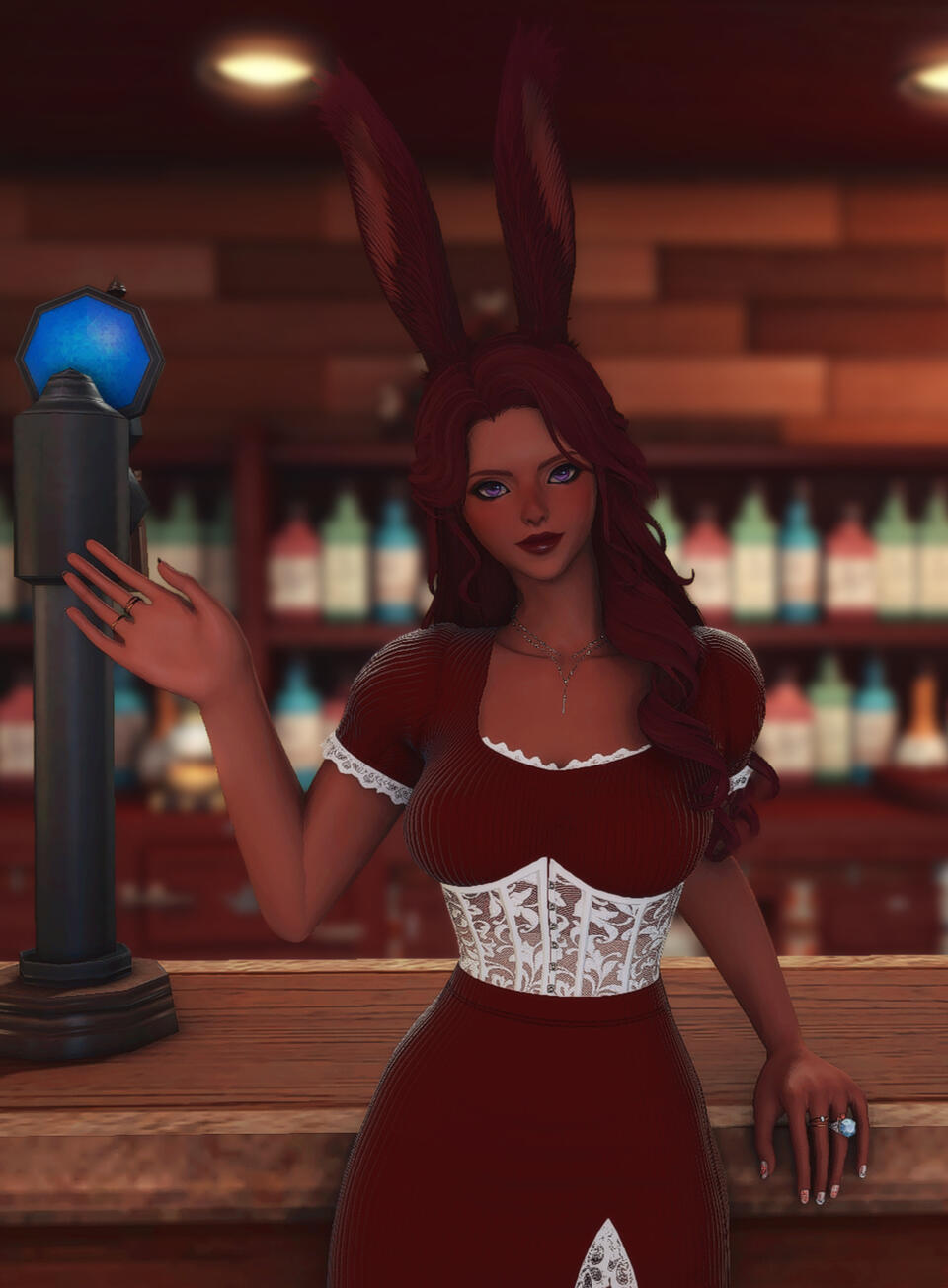 Rheyana YrethThe Boss ... Queen Bee ... Mama Bun. Quick to laugh and slow to anger (except to her slacking employees). She'll charm the pants off you -- but keep them on, no matter how much she rocks that Dirndl's Attire, because this is a classy lounge, OK? Ask her for advice on interior decorating; or marital harmony."Come -- let me help you." - Rheyana
Ceilewen MoonseekerShe's poetry in motion. Meet her gaze and you may drown. Flirty and fun, she'll make you feel special whether waiting on your table, hosting your event or being there when you're lonely. Just be careful, because kitties can scratch too."Hey, cutie. Up for some fun?" - Ceilewen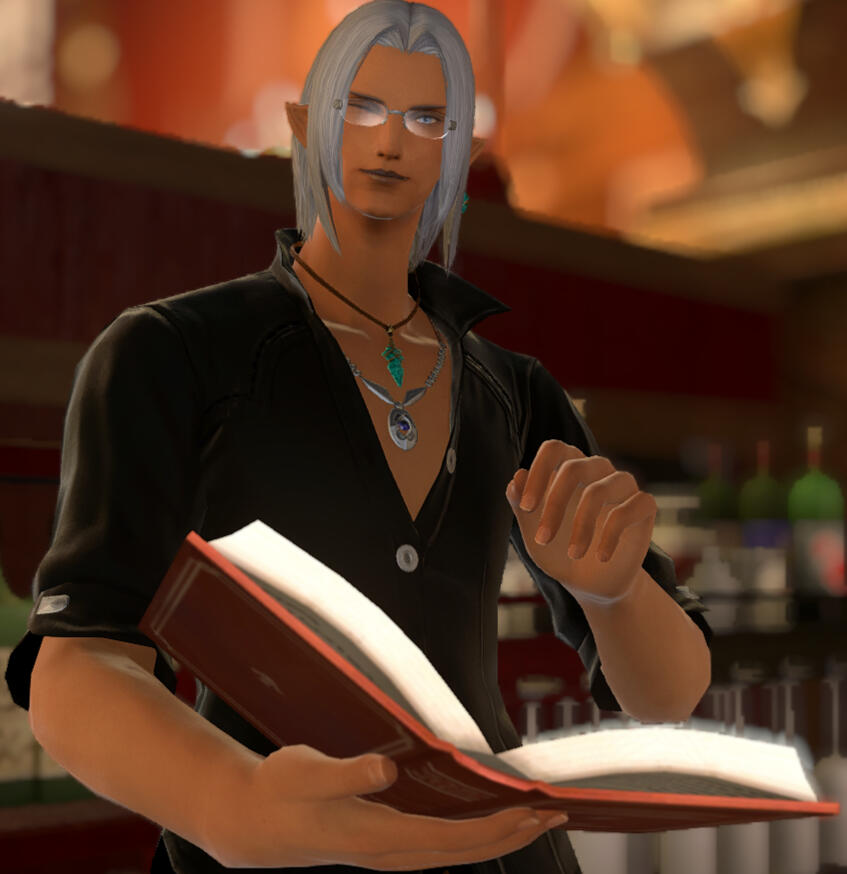 Arariman LarimanArariman is a musician. He even writes his own stuff! Ask him nicely and maybe he'll play for you. When not performing, he devours books, while his Baby Behemoth -- which he's convinced is a pet pig -- devours ... things that would make an aldgoat puke. He'll save some for you if you want. And don't rub his head."Leave me alone, please..." - Arariman
Zokuku ZokuThink sugar ... ice cream ... honey ... agave nectar ... maple syrup. Now put them altogether and mix thoroughly. The result: Zoku. If she's in the kitchen, your meal will rock your socks. If she's waiting your table, you'll melt into your chair. If you're extra nice, she might wear her bonnet for you."Oh, oops... I didn't mean to do that." - Zokuku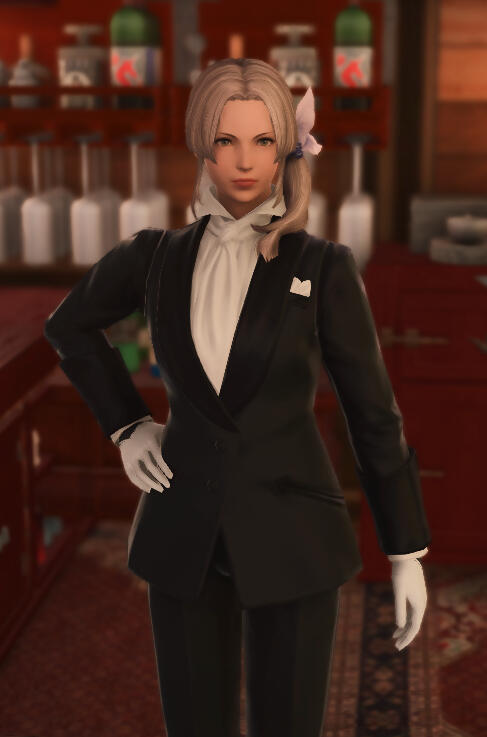 Mira MoonshrikeQuestions? Wishes? Lack of company? Mira will be there for you, trying to provide you with the relaxed evening you were hoping to find in our lounge. This mostly blue Moonkeeper will bring back some sunshine into your heart, as long as you don't mind her smell of dyes and colorful patches of fur."Only second degree burns, nothing serious. I had so much fun! So... how was your day?" - Mira
Florissaire LyleFlori is a Musketeer. Yes, she looks like a Samurai, walks-talks-and-fights like a Samurai ... but she's a Musketeer. This cannot be stressed enough. If you insist on calling her anything else, she will ... ignore you. Don't say anything bad about the color blue, either. If you're nice, and especially if you buy her a good wine, she may demonstrate her sword-and-chapeau-flourish. But she won't date you because she's got no time for that stuff -- too busy training her sword-and-chapeau-flourish and attending wine-tastings."Careful there." - Florissaire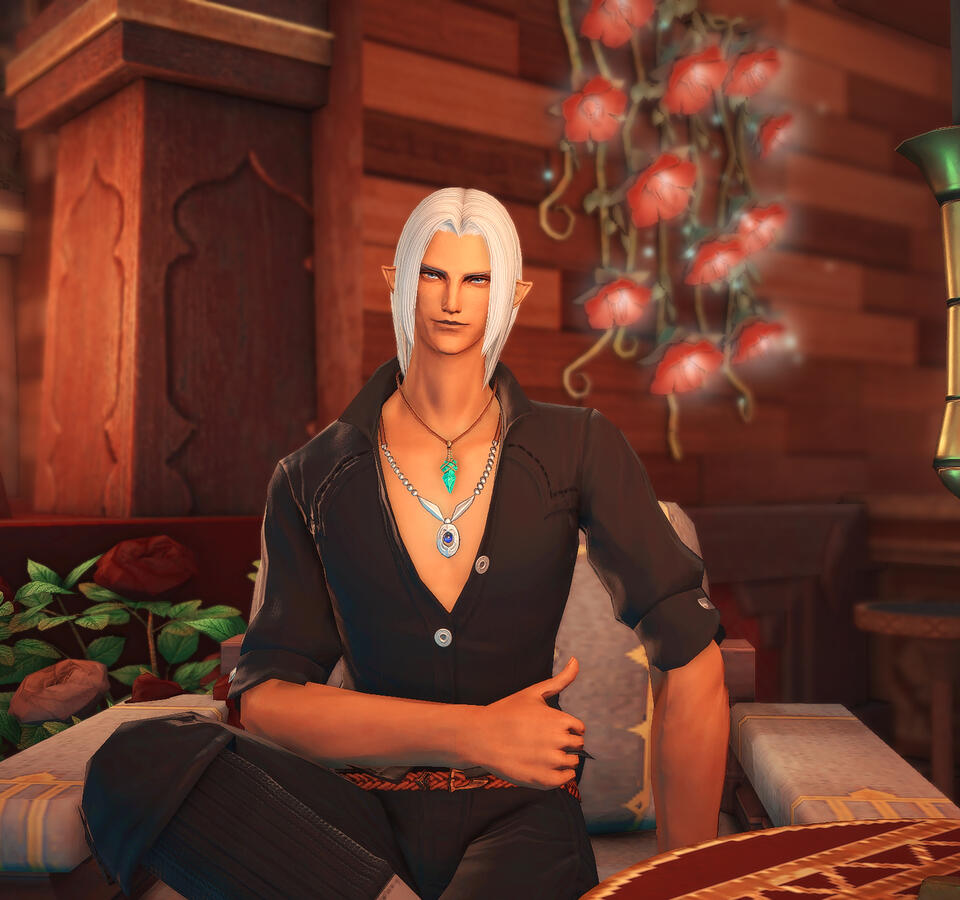 Marcus LiviusHe's the bartender. He makes you drinks. He figures out who is drunk and who is just stupid -- be the former and you can sit at the bar. If you want philosophy, psychiatric help or even a psychic, pull up a stool -- anything he tells you will be just as good as anything those whackos tell you, and you'll get a nice drink with it. Maybe you can't buy happiness, but come to the bar and you can buy a well-made cocktail, which is the same thing.*"There's nothing a good drink can't fix and no drink is "bad" -- some are just better than others." *- Livius
Lithyn DascarmatA dancer of savage grace, a watcher of forest moons, a keeper of wayward cats, a vehement (and unreasonable) loather of goobbues; a fierce lover, a tender lover, a sharp tongue and a sharper wit, a gentle heart with a core of steel, and, if you're lucky, your waitress for the evening.Lith is also proprietor of Dascarmat's Melodious Manuscripts: Gridania's premier purveyors of orchestrion rolls to the rich and famous (no order too large or too small, prices negotiable for bulk orders, enquiries welcome, discretion assured)"Don't upset the cats." - Lithyn
Sev IshtraA no-nonsense kind of guy, to the point and honest -- without using it as an excuse to be an arse. He likes to surround himself with good company, great food, drinks and music.
Sev is not a bad dancer and you might be able to tempt him into a little jig with you -- that is if he's not already occupied dancing with a lady. Go on, he might look scary, but he'll only bite if you ask him nicely."Fancy a muffin?" - Sev
Eisen SchmittHe drinks, therefore he is. You don't believe it? Ask him! You still don't believe it? Ask him again. But if you do, he may find you irritating and bounce you. You don't want Eisen to bounce you. You want him to be a Teddy Bear -- which he usually is. If he gets angry, then quick! Hold up a mirror. He'll admire his biceps and forget why he got angry. And never make jokes about his bard costume. Ever."No." - Eisen
---
NPC Staff: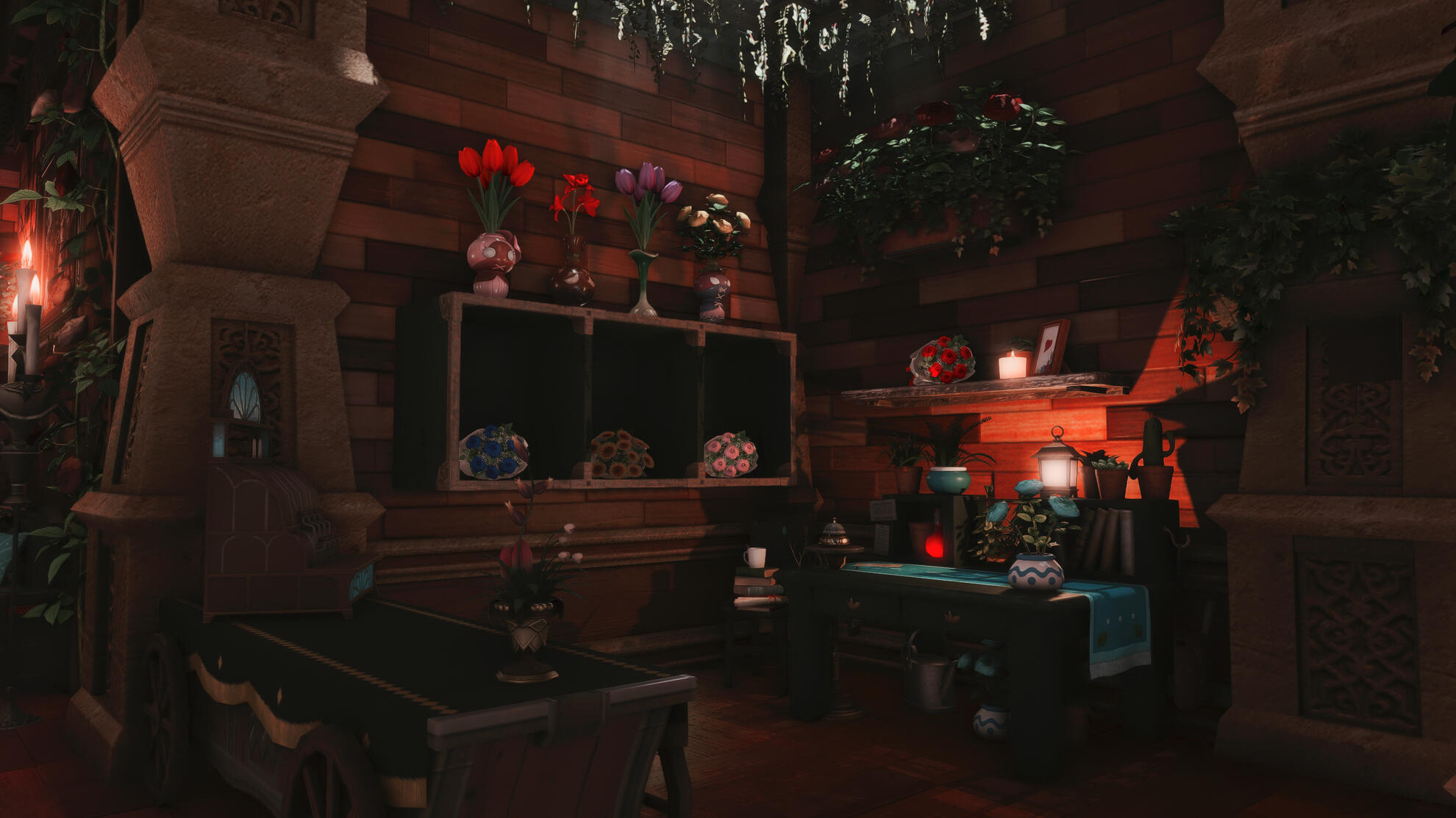 Rose HowellRose is our beloved Bartender-In-Training that takes over when the rest of the staff is done for the night. She will make sure you have the time you need to finish up any drinks or food, and is in charge of locking up the venue after last guest leaves."Where is that bottle...?" - Rose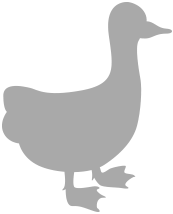 1. This is a SFW venue, so please keep your pants and shirt on at all times.2. No foul language or abusive attitude.3. Please leave your weapons and minions at the door. We don't mind emotes, but do not spam them.4. Do not use /yell or /shout, the staff reserves these for announcements.5. Please keep all OOC chat in private text, alternatively use () if you need to write short messages in public. This is an immersive RP venue - we suggest enabling your RP tag to show that you are "In Character".Real life drama is not welcome here.If you are new to roleplay and would like to learn - we will do what we can to help and make the experience as enjoyable as possible!Should you have any questions or concerns please don't hesitate to grab a staff member for a chat!
While the prices listed on the menu are for RP purposes only, we do offer a selection of paid services:
-------------------------------------------------The Silver Duck has a lovely, elevated VIP section in the corner of the venue with a great view to the stage. This area is available for bookings in advance, seats up to 7 people (additional cushions can be placed for more seats) and comes with priority service.Ask a staff member for more information and booking!> VIP reservation: 100 000 GILIf you would like to reserve a normal table or a booth - visit our Discord and we will sort that out free of charge!> Photo session: 125 000 GIL.
(the photographer will need your Discord tag to be able to give these out)> Venue rental with staff: 1 500 000 GIL.
> Venue rental without staff (NPC staff can be provided): 600 000 GIL.We will gladly provide you and your friends with access to our venue along with any staff required -- granted their availability at your desired date and time.
| Order | Item to give out | Amount |
| --- | --- | --- |
| Cold Beverages: | | |
| Any alcoholic drink | Frozen Spirit | 1 |
| Juice of the Day | Pineapple Juice | 1 |
| Hot Beverages: | | |
| Hot Chocolate | Hot Chocolate | 1 |
| Doman Tea | Doman Tea | 1 |
| Gridania Cream Coffee | Triple Cream Coffee | 1 |
| Lounge meals: | | |
| Burrito Platter | Elpis Deipnon | 1 |
| Snacks & desserts: | | |
| Valentione Cake | Rolanberry Cheesecake | 1 |
| Wondrous Parfait | Rolanberry Cheesecake | 1 |
| Cookies | Sesame Cookie + Sideritis Cookie | 1 of each |
Remember to whisper the drink orders to the bartender to avoid spamming the chat and make it easier to notice.
---
Those that are given the roles as staff for the evening will use the "Looking to Meld Materia" tag to make it easier for guests to know who they can interact with.Those that are assigned to be a guest can stick to the RP tag. ♥All roles will be assigned before we open our doors.Any tips you recieve is yours!
---